Unhealthy Habits Can Cost Nothing To Your Life
August 23, 2016  | CTVNews.ca Staff
We've long been told that smoking, eating junk food and being physically inactive are bad for our health, but just how bad are they?
According to a new study, unhealthy lifestyle habits are shortening Canadians' lives by an average of six years
What's more, Canadians who live extra healthy lives and follow recommendations for healthy lifestyles have average life expectancies 17.9 years longer than those with the unhealthiest behaviors.
The study was led by Dr. Doug Manuel, a senior scientist at The Ottawa Hospital and at the Institute for Clinical Evaluative Sciences. His team found that smoking, poor diet, physical inactivity, and unhealthy alcohol consumption contribute to 50 per cent of deaths in Canada.
"Unhealthy behaviors place a major burden on Canadian life expectancies," Manuel said in a statement. "This study identified which behaviors pose the biggest threat."
Using data from ICES and the Statistics Canada 2009-2010 Canadian Community Health Survey, the study found:
26 per cent of all deaths is attributable to smoking
24 per cent of all deaths is attributable to physical inactivity
12 per cent of all deaths is attributable to poor diet
0.4 per cent of all deaths is attributable to unhealthy alcohol consumption
For men, smoking was the top risk factor, and reduced life expectancy by an average of 3.1 years.
For women, a lack of physical activity was the biggest risk to health and represented a loss of three years of life.
The researchers also found that Canadians who followed recommended healthy behaviors had a life expectancy 17.9 years greater than individuals with the unhealthiest behaviors.
The full results appear in PLOS Medicine.
The authors acknowledge that using health surveys to assess behaviors has limitations since these surveys are usually telephone-based and use self-reported diet, which tends to be unreliable. But the researchers say they adjusted for the fact that many people misreport their food and alcohol intake.
Dr. Manuel and his team have created an online calculator called Project Big Life to help Canadians estimate their own life expectancy based on habits and lifestyle choices.
The study was funded by the Institute for Clinical Evaluative Sciences and the Ontario Ministry of Health and Long-Term Care.
RELATED STORIES L:
---
Medical marijuana has potential as Alzheimer's treatment, study says
 Published July 25, 2016  | By Susan Scutti, CNN
(CNN)Could medical marijuana treat Alzheimer's patients? One recent study found THC, the psychoactive ingredient in cannabis, stimulates the removal of toxic plaque in the brain, a common feature of the disease. Furthermore, the researchers discovered it blocks inflammation, which damages neurons in the brain.
"It is reasonable to conclude that there is a therapeutic potential of cannabinoids for the treatment of Alzheimer's disease," wrote David Schubert, senior researcher and a professor at Salk Institute for Biological Studies.
Keith Fargo, director of scientific programs and outreach for the Alzheimer's Association, refers to marijuana as a "legitimate avenue of research." The association funded some of Schubert's early research and Fargo sees therapeutic potential in components (or chemical derivatives) of cannabis to alleviate brain inflammation.
Not everyone is as optimistic as Fargo.
While Schubert's study may be "interesting," the results are not yet ready for prime time — treating actual patients, said Dr. Donovan Maust, an assistant professor of psychiatry at the University of Michigan. Maust, who is not affiliated with the study, examined dementia as a qualifying condition for medical marijuana in his own
separate study
.
"It is difficult to say what if any, effect this might have on humans, even if it would successfully promote clearance of [plaque]," said Maust.
Meanwhile, Dr. David Casarett, chief of palliative care services at Duke University, remains open to the possibility that medical marijuana is beneficial.
"I spoke to many family members of people with mild or moderate dementia who believed that THC or whole-plant marijuana was effective in alleviating the confusion and agitation that sometimes occurs," said Casarett, author of the book "
Stoned
."
This idea is supported by a
2014 review
of the existing research on marijuana; Dutch scientists found two studies showing THC is useful in treating the behavioral symptoms of dementia. Similarly, a very small
2016 study
of 11 participants found THC helped decrease symptoms of delusions, agitation or aggression, irritability, apathy and sleep in patients with Alzheimer's disease.
While easing the complaints of patients is helpful, scientists hope for something much more out of marijuana and all other avenues of research — namely, a preventative treatment or even a cure for Alzheimer's.
Unfortunately, there are still no effective therapies for stopping Alzheimer's and other neurodegenerative conditions.
The pros and cons of targeting plaque
One reason for the lack of treatments is these diseases cause very complex damage to the brain — it's a thorny knot to untangle.
Schubert believes pharmacological scientists share in the blame as well. Contemporary researchers take a "reductionist" approach, according to Schubert. They focus on very small drug targets, such as a single protein found in neurons in the brain. The research is too narrowly focused, said Schubert.
Another reason experimental drugs for Alzheimer's have failed is they've all been targeting the toxic amyloid plaque that clogs the brain and kills brain cells, noted Schubert. "The hooker in this whole thing is you can have individuals loaded with plaques that are cognitively normal," he said. "And you can have the opposite — no plaques but dementia."
A long and winding road
Schubert's current study of THC got started about 10 years with a drug candidate he derived from curcumin, the main ingredient of the Indian curry spice turmeric.
"The Indian population doesn't get much Alzheimer's," noted Schubert. The existing molecular structure of curcumin was "lousy," so he and his colleagues refined and strengthened it, creating a drug they refer to as "J147."
Experimenting with a large number of animal models of different diseases (including stroke and dementia), Schubert's team discovered J147 reduces inflammation and decreases damage to nerve system cells in the rodents modeling Alzheimer's disease.
To raise money from funders, though, he had to explain exactly what made J147 effective. Conducting more experiments with the drug, he and his colleagues discovered it worked through a pathway of cannabinoid receptors. The endocannabinoid system, which was named after the marijuana plant Cannabis sativa, helps diverse cells communicate and coordinate.
"And that's what got us into this marijuana thing," said Schubert, explaining that once they knew the drug had a cannabinoid-like effect, they went to the source, marijuana, to see if its own cannabinoid, THC, did the same thing as J147.
Sure enough, THC activated cannabinoid receptors and, in turn, this prevented accumulation of plaque and the death of nerve cells and stopped brain inflammation. Lab data supports this, noted Casarett: Other experiments have shown cannabinoids playing a role in reducing inflammation in the central nervous system.
According to Fargo, the really important thing about Schubert's study is "it gives us a better understanding of the cannabinoid system" and how it's possible to tilt the balance in the brain away from cell death and toward cell survival. Dying neurons in the brains of Alzheimer's patients contribute to their loss of memories and mental abilities — if you could stop the many individual cell deaths, you might stall the progress of Alzheimer's, he suggested, and Schubert's study points in this direction.
Though Schubert would be interested in learning more about cannabinoids, regulations surrounding marijuana research make such a task daunting.
In fact, "relatively few" researchers are currently exploring medical marijuana, said Fargo, who explained there are just a small number of ongoing clinical trials and most of these consist of very few people — less than a hundred.
---
Sleep Disorders 6 Times Higher Among Veterans
Published July 20, 2016, |  By http://healthlibrary.inova.org/
Sleep disorders are six times more likely among American military veterans than in the general population, a new study finds.
And veterans with post-traumatic stress disorder (PTSD) seem to have the highest rates, the researchers said.
The research involved more than 9.7 million veterans treated by the Veterans Health Administration system between 2000 and 2010. The majority (93 percent) of these military service members were men. Slightly more than 750,000 were diagnosed with at least one sleep disorder, the study authors said.
Over the course of 11 years, the investigators found that the rate of sleep disorders rose from less than 1 percent to nearly 6 percent. Sleep disorders were most common among veterans who had experienced combat and those with PTSD.
"Veterans with PTSD had a very high sleep disorder prevalence of 16 percent, the highest among the various health conditions or other population characteristics that we examined," study senior author James Burch said in a news release from the American Academy of Sleep Medicine. Burch is an associate professor of epidemiology and biostatistics at the University of South Carolina.
The study doesn't prove that PTSD triggers sleep disorders, but the researchers noted that diagnosed cases of PTSD tripled over the course of the study.
Sleep apnea was the most commonly diagnosed sleep disorder among the study participants. Sleep apnea, which causes brief pauses in breathing during sleep, accounted for 47 percent of diagnosed sleep disorders, the researchers said.
Insomnia accounted for 26 percent of diagnosed sleep disorders, the findings showed.
Veterans with other chronic health issues — including heart disease and cancer — also had higher rates of sleep disorders than other study participants, according to the report.
The findings point to a need for improved management of sleep disorders among U.S. military veterans, the researchers concluded.
The study was published in the July issue of the journal Sleep.
More information
Find out more about sleep disorders from the National Sleep Foundation.
SOURCE: American Academy of Sleep Medicine, news release, July 15, 2016
---
New HIV vaccine to be 0trialled in South Africa
Published July 19, 2016,  |  By Meera Senthilingam, for CNN
Durban (CNN)A vaccine against HIV will be trialed in South Africa later this year after meeting the criteria needed to prove it could help fight the epidemic in Africa.
In 2015, 2.1 million new infections were reported — two-thirds of which occurred in
sub-Saharan Africa
.
A small trial,
known as HVTN100
, took place in South Africa in 2015 to test the safety and strength of immunity the vaccine could provide, ahead of any larger-scale testing in affected populations.
Two-hundred and fifty-two healthy volunteers were enrolled to receive either the vaccine, known as ALVAC-HIV/gp120 or a placebo to compare the extent of immune response generated. The results were presented Tuesday at the
21st International AIDS Conference
in Durban, South Africa.
"This was precautionary to see if the vaccine looks promising," said Linda Gail Bekker, deputy director of the
Desmond Tutu HIV Centre
in Cape Town, South Africa, and president-elect of the
International AIDS Society
, who is leading the vaccine trials.
The vaccine stems from a landmark trial in Thailand in 2009 that was the first to show any protection against HIV, with 31% protection against the virus. This was enough to get experts in the field excited after years with no success.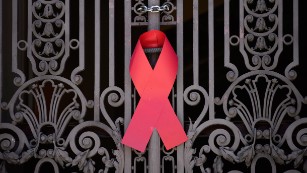 The vaccine was improved for use in the higher-risk populations of sub-Saharan Africa, where a different subtype of the virus also exists.
"We've inserted specific inserts from viruses that have come off the subcontinent," said Gail-Bekker. A new component was also introduced to stimulate stronger immunity, known as an adjuvant.
Four criteria were set as measures of its likely effectiveness, including the level of T-cell and antibody response to fight the virus if it were to infect.
"It gives the tick on all four, it does look promising and it should launch," Gail-Bekker said. "We wanted to see a particular immune picture that would suggest that a big efficacy trial would be likely to yield results," she said.
"[This] was like the gatekeeper of will we or will we not go ahead," Fauci said, "and the answer is 'yes'."
A larger-scale trial of the vaccine will now begin in 5,400 people across four sites in South Africa in November 2016 and run for three years. A fifth dose of the vaccine will also be given in the hope of longer-lasting protection.
The Thai study showed 60% protection against HIV after one year, but this fell to 31% by the end of the trial. The team hopes the new regimen will bring protection levels back up.
"We want to get it up to 60% and keep it there," Fauci said. "That's the reason for the boost and the reason for the adjuvant," he said.
Experts have long been awaiting a vaccine showing enough efficacy to dent the numbers of people newly infected with HIV each year, which fell by 0.7% between 2005 and 2015, according to a study published Tuesday and presented at the conference.
"We're hoping this can be the first licensable vaccine regimen in the world," said Gail-Bekker. She acknowledged that this is unlikely to occur purely as a result of the upcoming trial, but hopes the results will provide the evidence needed by manufacturers and vaccine regulators to take it further.
---
Caregiver gets Zika from man who died in medical mystery
SALT LAKE CITY — Utah health officials say a man who died after being infected with Zika virus passed it to a caregiver, creating a medical mystery about how it spread among them.
The Salt Lake County Health Department said Monday that the two people didn't have sexual contact and the type of mosquito that mainly spreads the virus is not found in the high-altitude area where they live.
Officials say the caregiver is a "family contact" but wouldn't give further details. The man who died caught the virus while traveling abroad to an area where mosquitoes are known to spread Zika.
It marked the first time a person in the continental U.S. died after being infected with the virus.
The exact cause of the death announced July 8 wasn't clear because the person was elderly and also had an underlying health condition.
---
Eating More Fruits & Veggies May Make You Happier
By
|
Eating fruits and vegetables may help you feel happier, a new study from Australia suggests.
Researchers found that people who switched from eating almost no fruit and vegetables in their daily diets to eating eight portions of fruit and vegetables a day experienced an increase in life satisfaction equivalent to what an unemployed person feels after finding a job.
The improvements in the people's life satisfaction occurred within two years of the changes to their diets. [6 Easy Ways to Eat More Fruits and Vegetables]
"Eating fruit and vegetables apparently boosts our happiness far more quickly than it improves human health," study co-author Redzo Mujcic, a health economics research fellow at the University of Queensland in Australia, said in a statement.
Previous research has shown that eating more fruits and vegetables leads to improvements in people's physical health, but these benefits typically occur over longer periods of time, the researchers said.
"People's motivation to eat healthy food is weakened by the fact that physical health benefits, such as protecting against cancer, accrue decades later," Mujica said.  In contrast, improvements in psychological well-being may happen faster, he added.
In the study, researchers looked at more than 12,000 people in Australia, following them for two years. The researchers asked the people whether they normally ate fruit and vegetables, and how much they ate. Investigators also asked the study participants how satisfied they were with their lives, on a scale from 0 to 10. The researchers then tracked the people's diets, including whether they had increased their consumption of fruits and vegetables during the study period, and their life satisfaction levels for two years.
Results showed that in the people who began eating more fruit and vegetables per day during the study period, the levels of life satisfaction increased by the end of the study.
The relationship between higher levels of life satisfaction and increased fruit and vegetable intake persisted even after the researchers accounted for changes in the people's income or other life circumstances, according to the study, which will be published in the August issue of the American Journal of Public Health. And previous research has suggested that it isn't likely that the link works the other way — that people who start feeling happier start eating more fruits and vegetables, the researchers said.
It is not clear why eating more fruit and vegetables would be linked to greater levels of life satisfaction, the researchers said. However, previous research has suggested that greater levels of pigments called carotenoids, found in some fruits and veggies such as carrots, are linked to higher levels of optimism. Studies have also suggested that an increased intake of vitamin B12, also present in fruits and vegetables, may boost a neurotransmitter in the brain called serotonin, which plays a role in regulating mood, the researchers said.
The new findings may help doctors convince people to eat more fruits and vegetables, Mujcic said. "Perhaps our results will be more effective than traditional messages in convincing people to have a healthy diet," he said. "There is a psychological payoff now from fruit and vegetables, not just a lower health risk decades later."
"The results showed that there was a direct impact in terms of a number of fruits and vegetables someone had and their overall well-being," said Antonella Apicella, a nutritionist at Lenox Hill Hospital, in New York City, who was not involved in the study. The relationship between nutrition and emotional health is a new, hot research topic that should be studied further in the future, she said.
Originally published on Live Science.